The Yoga Experience

I am certified as a Yoga Teacher (RYT), trained at the Integral Yoga Institute in New York City.
Hatha yoga

Yoga means union,
union within
, this is the practice that I facilitate so that you can go deeper and discover your inner balance. This is not about being competitive within yourself or with others but being able to connect your own energy.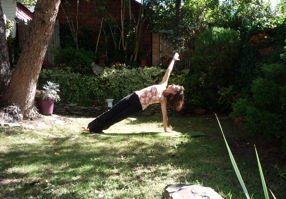 Following the teachings of Swami Satchidananda, I have learned the traditional, foundational yoga teachings that have been in existence as healing modalities for thousands of years. In addition, I also have experience with Anusara yoga, the "celebration of the heart," the philosophy of harmony, looking at the good in all people and all things.
My philosophy in Yoga as in life is one of integration, holism and balance. I incorporate a variety of teachings from many traditions, looking at what unifies them to bring about the true nature of each individual.
You will strengthen and tone the body. As you will breathe deeper, you release tension (physical & emotional). You quiet the mind and discover inner peace and inner energy and vitality. You will discover your inner joy and beauty.
I am also trained in
Lakshmi Voelker
chair yoga: "
get fit where you sit
." Yes, you can experience all the benefits of yoga while sitting. The focus is on anatomical safety, correct alignment and using breathing techniques to bring body/mind into inner balance. This is an excellent choice for those with restricted mobility.
If you are new to yoga or think to yourself, "I can't twist my body into a pretzel, yoga is not for me," try an individualized session, which we can tailor your specific needs, conducted in your home or in a private office. Experienced yoga practitioners can also benefit from private one:one instruction, which gives you the personalized attention that can further your practice.
Yoga is a great way to gently train the body. Strength and tone increase naturally over time, and we become more grounded in our bodies. In contrast to aerobic exercise or strenuous weight training, yoga allows you to become more flexible as you tone and shape your body. The experience of yoga is one of working with the body, rather than against it.
While many people understand the physical benefits of yoga, there is also an important spiritual component to the practice. Each yoga session concludes with breathwork (pranayama) and meditation, and the postures (asanas) are designed to optimize and facilitate this aspect of the session.
Private yoga sessions are usually 60 - 90 minutes in length. $75/hour.
Click here to contact me to set up a private session.
I have also teamed with Armand Diaz, of Integral Astrology, to create a chakra/yoga program that integrates yogic work on the chakras with astrology.
Click here
for more information on this exciting program.